Want to have a small party at home? Hot air fryer is your best choice. For the health of you and your family, bid farewell to traditional frying and bring you crispy foods with less or no oil, so that your lover can eat healthier!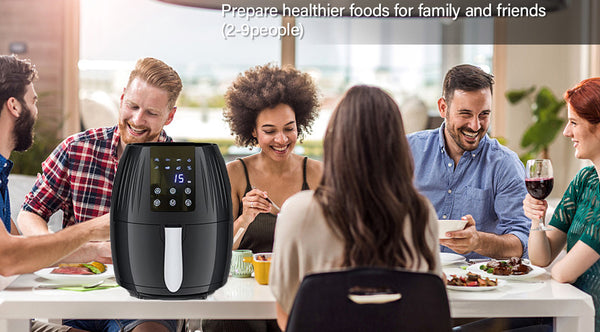 Features:
360° rapid air circulation technology, 85% less oil than traditional frying methods, you can enjoy the same taste of fried or crispy food.
The multifunctional air fryer allows you to make crispy fried chicken, meat, French fries, pizza, pork, shrimp, cakes, etc. healthier.
Non-stick pan design and heat-resistant handle; the detachable basket can be cleaned in the dishwasher.
Quick and easy operation, just touch the screen and you can start cooking.
With automatic shut-off switches for cooking meat, vegetables, desserts, etc., you can set your own personal meal.
It is the perfect gift for those who like to cook and want to cook healthier food inspired by reward recipes.
Specification:
Colour: Black
Power: 1300 watts
Dimensions 15.7 x 12.5 x 12.5 inches
Weight: 9 pounds