The electric air fryer uses hot air combined with high-speed air circulation and a top grill to cook a variety of delicious dishes in a healthy, fast and simple way.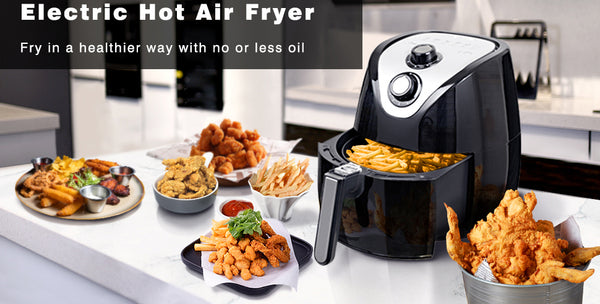 Features:
The 2 liter fryer provides enough capacity to cook snacks for the whole family or main course, using the "hot air cooking" method to use less fat in cooking, creating healthier food
The 60-minute cooking timer will automatically turn off when the food is finished.
Variable temperature control from 180 to 400°F gives you complete control over the food you are cooking.
The 360° hot air cooks your food faster than the oven, the cooking time is faster, and the food is crisper and more delicious.
Easy to clean. Remove the non-stick metal frying basket to rinse and wipe off the water. It can also be placed in the dishwasher.
Specification:
Colour: Black
Capacity: 2 liters
Weight: 11.88 pounds
Power: 1500 watts