The coffee milk frother provides 4 modes for making cappuccino, latte, hot chocolate and cold chocolate. With the push of a button, the foam can reach the perfect temperature/texture, allowing you to enjoy barista-level coffee at home.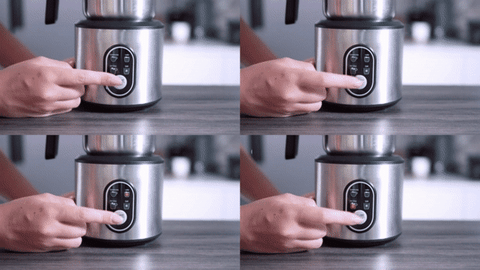 Features:
The milk frother adopts magnetic drive technology, which effectively reduces noise and vibration, and only produces very little noise when working at high speed.
It only takes 2 minutes to make a thicker foam.
The detachable milk frother produces up to 11.8 fluid ounces of foam and is used to make delicious cappuccinos, lattes or macchiatos, allowing you to easily enjoy delicious coffee with family or friends.
The milk jug is made of high-quality food-grade 304 stainless steel, no harmful coating added, absolutely safe and healthy.
The detachable water bottle is very convenient for disassembly, assembly and cleaning, so there is no need to worry about increasing housework.
The base of the milk frother is equipped with temperature and weight control components, which can precisely control the temperature of the foam, and automatically stop the motor when the kettle is picked up.
Specification:
Weight: 2.94 pounds
Material: 304 stainless steel
Function: 4 in 1